Our Guided Mine Tours Start The 1'st Weekend In May

And Run Through the Last Weekend In October.

(Friday / Saturday / Sunday ONLY)

Our First Tour Departs Between 11 -- 11:15 AM

With Subsequent Tours Running Approx. Every Hour

Our Museum Is Open YEAR ROUND!

(Please call us to arrange for Group Tours at (570) 645-7074)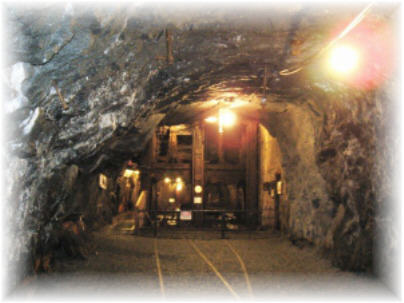 Welcome to the No. 9 Mine & Museum.

We invite you to come and experience our unique Anthracite Mine Tour and Museum. Ride by rail into the mine, then enjoy a walking tour which allows you to experience first hand the views, paths, and adventures of a deep coal miner! See the true inner workings of one of America's oldest deep coal mines, including the mine hospital, mule-way, mine equipment, and the Original No.9 mine elevator shaft!
Our museum is filled with equipment and artifacts, just waiting to take you on a stroll into ages past. A true to life experience for young and old alike, and one that you will NEVER forget!
Of course no visit is complete without checking out our unique gift shop which features various coal items, printed tee shirts, hats, and other items to suit most every taste and budget!
We're located just off Route 209 in the West End of Lansford Pa., right at the foot of the Pocono Mountains! Just follow our signs .......... you'll be GLAD you did!!!


Come ..... Visit ...... and ENJOY !!




The Old Wash Shanty

Clothes in wire baskets hang on chains from the ceiling at the Wash Shanty Mine Museum, just the way they did when up to 450 miners worked at the nearby No. 9 Mine, opened in 1855. It was the world's oldest operating deep anthracite mine when it closed in 1972. Our visitors can also enjoy guided tours into the mine itself! Ride by rail into the mountainside, then walk through the gangways just as our forefathers did! A real adventure enjoyed by both kids and adults alike!

The tools they used are there too, drills, picks, shovels, axes, saws, blasting equipment and even their lunch cans, caps, and lamps. Displays include life sized replicas of mine mules, dozens of vintage photographs, paintings, railroad items, a model of a coal colliery operation (that was actually on display at the Worlds Fair in N.Y.), maps, signs, a mucking machine, and the kind of kitchen you'd find in a miner's home, including a coal stove, a scrubbing board, and a wooden wash tub with hand-cranked wringer attached.

It's a recreation of a once dangerous and difficult workplace, depicting a vanished life-style and a reminder of what our forefathers did to get us where we are today.

The museum was created by the Panther Creek Valley Foundation as a tribute to the many men who gave much of their lives to the anthracite industry, including those killed and injured while working in and around the mines.





The Old Powder Barn Where Blasting Equipment Was Stored

~ Take A Step Into The Past ~

We are dedicated to saving a local landmark, while providing you with an opportunity to experience our Anthracite Heritage first hand.

Our gift shop offers a unique variety of items, including magnets, logo shirts, coal figurines, and MUCH MUCH MORE! Our gift shop and museum are open YEAR ROUND !