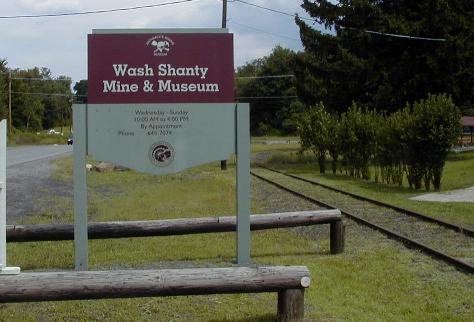 The Old Wash Shanty

Clothes in wire baskets hang on chains from the ceiling at the Wash Shanty Mine Museum, just the way they did when up to 450 miners worked at the nearby No. 9 Mine, opened in 1855. It was the world's oldest operating deep anthracite mine when it closed in 1972. Coming in the summer of 2002, our visitors can also enjoy guided tours into the mine itself! A real adventure for kids and adults alike!

The tools they used are there too, drills, picks, shovels, axes, saws, blasting equipment and even their lunch cans, caps, and lamps. Displays include life sized replicas of mine mules, dozens of vintage photographs, paintings, railroad items, a working model of a coal colliery operation, maps, signs, a mucking machine, and the kind of kitchen you'd find in a miner's home, including a coal stove, a scrubbing board, and a wooden wash tub with hand-cranked wringer attached.

It's a recreation of a once dangerous and difficult workplace, depicting a vanished life-style and a reminder of what our forefathers did to get us where we are today.

The museum was created by the Panther Creek Valley Foundation as a tribute to the many men who gave much of their lives to the anthracite industry, including those killed and injured while working in and around the mines.